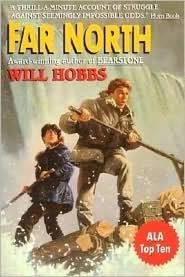 Far North

written by Will Hobbs

240 pages

my recommendation for ages 12-14+
Gabe Rogers is a boy from the south -- Texas, to be exact. A sequence of tough incidents lead him to the Northwest Territories of Canada. He thinks he will be stuck at the boarding school and lead a lonely life with no friends. Even when he meets his new roommate, Raymond, things don't get much better for Gabe. Little do these two boys know, but they will soon be out in the frozen wilderness together, striving and depending solely on each other for their very lives.
The boys are accompanied in their frigid adventure by Raymond's great-uncle Johnny Raven, who is an elder of the native Dene tribe. Gabe and Raymond learn many things about living in the fierce outdoors from this wise man. Not only does Johnny Raven pass on his knowledge of hunting and living in frigid temperatures, he also passes on old Dene stories and beliefs, that thrive in the young boys' hearts and minds. A modern day story, connecting the new generation to the old.
Together, this trio must outlast the wild winter ahead of them. The future looks pretty bleak though. How can they continue to exist for months, trapped in an environment of possible 50-below temperatures?
My Personal Thoughts:
A sense of intrigue, full of adventure, and a plot that keeps twisting. Everything you could ask for in a great book. This is the first that I've read by the author Will Hobbs -- and I'm impressed. His knowledgeable descriptions make the story come alive.