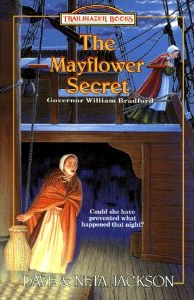 The Mayflower Secret

written by Dave & Neta Jackson

157 pages
An interesting thing to read about this time of the year, is books about the Pilgrims... with Thanksgiving coming, it's nice to re-read about the Pilgrims journey. Here's a book I've enjoyed reading recently...
Elizabeth Tilley was a Pilgrim who crossed the ocean, from England to America in 1620. She was a real person, but this book is a fictional account of her life, written by Dave & Neta Jackson in their "Trailblazer" series. Elizabeth was 13 when the voyage began with her parents. Her family was not of the group of Puritans who were fleeing from England though. So the experience of living in close quarters on the same ship with these godly people adds a new perspective to Elizabeth's outlook on life.
Amid all the regular chaos aboard the ship, something horrible goes awry. It's Elizabeth's secret that she won't tell anyone. She's afraid that she'll get into a bigger mess of trouble than she'll be able to get out of. Everyone questions what had happened on that certain tragic night, but Elizabeth can't make herself tell.
The weary voyagers explore the new land of America and the Puritan leaders, including William Bradford, begin building their initial encampment. Through all this, Elizabeth must endure even greater pains and hardships, in addition to still keeping the burden of a secret. She now has a completely different life than she did before. And after all... living with Indians is not at all something that anyone would do back in England!
"Juvenile Fiction" - recommended for ages 9-12. Very nicely written book. I always enjoy the Trailblazer books. This is probably by second time (at least) to read "The Mayflower Secret"--still keeps me interested!
If you're interested in a couple other Pilgrim books I recommend, please visit my post on
Walking in Thy Truth.