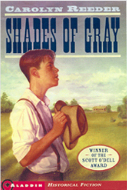 Shades of Gray

written by Carolyn Reeder

165 pages
This is one of my favorite books concerning America's Civil War! Actually, it's the fictional story of Will Page
after
the war ended. He is only 12 years old and has already lost his parents & siblings during the war.
Will has nowhere to go, except to live with his closest relatives in Piedmont, Virginia--an aunt, uncle & cousin, that he doesn't know. Because Will is so upset about the war taking his family, he can't stand the fact that this new family of his didn't even fight to protect the Confederates. They tried to remain neutral, to prevent harm coming to their own family. Will's heart is full of hard feelings towards his uncle especially, who could have fought in the war. I think it's a great book, because it shows insight of how feelings and emotions were still raging after the Civil War was over... even between family.
When this boy goes to live with his relatives, he also experiences a new life he never had before while living in the city, where he had slaves to do his work. Now he's learning how to work hard in the country, which completely changes his life around. He's never trapped rabbits, built a fence, or grown crops before. He also learns several life lessons... including courage, pride, and respect.
Check out this book. It is really worth the read! Recommended reading level is for ages 9-12--but I really enjoyed it myself, as did both my mother and my 15yo brother. It is also recommended in the Sonlight homeschool reading curriculum.


I'm participating in the Monthly Book Reviews Challenge. Please stop by Hannah's Hangout for more info, and to see all the other great book reviews for this month!