The R.M.S. Titanic.
Queen of the Ocean.
The Last Word in Luxury.
The disaster that took the lives of 1,517 people.
The Unsinkable Ship.
It was 100 years ago when the tragedy of the Titanic took place in 1912. Throughout history, there have been other ships that have sank just as the Titanic, but what ranks this one as the most memorable, is the disastrous amount of deaths.
With the centennial year of this calamity being 2012, my curiousity has been aroused to do some extra researching and studying about the Titanic. I'll be posting my findings every day for the next three weeks (maybe more?), and I hope you will enjoy it, as I plan to give information on all aspects of the Titanic. The actual sinking didn't happen until April 14th, but I have a lot to tell you about before we get there!
Where was this mighty ship exactly 100 years ago, to the date?
It might be interesting to think of this as actually happening today, on March 31st, and follow along with the rest of my coming posts as a day-to-day timeline. If the Titanic were a modern-built ship, this is what would be happening now.
March 31, 1912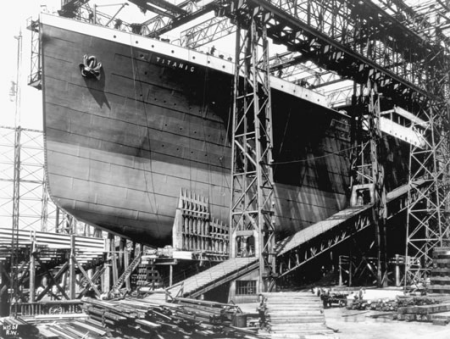 Shown above, the R.M.S. Titanic during construction.


The town of Belfast, Ireland, had watched for 3 years, as the Titanic was built before their eyes. It had taken
Harland and Wolff's
shipyard the entire timespan to build this ship, piece by piece.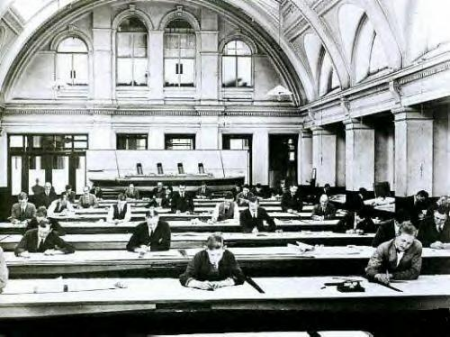 I found this photo of the Harland & Wolff Shipyard drawing room in 1911, when the last details were still being worked on. At the back of the room you can see a plan of the Titanic, notably identified by its iconic 4 funnels.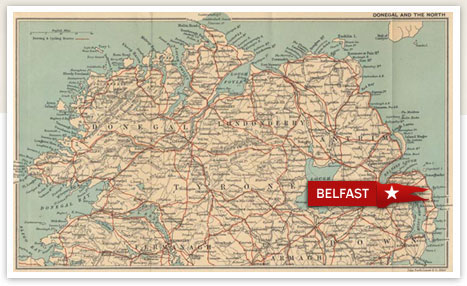 To be exact, work had began on March 31, 1909, and had ended on the same date in 1912---quite a coincidence! So, "today" the outfitting of the great ship in Belfast was complete.
The years of planning, the years of building, the years of waiting, had all led up to this anticipated moment.
The Titanic was ready to cross the ocean,
and the entire world had their eye on her.
Are you ready for what happens next?
To start off this series of posts, I'd like to use the same exact words that Stephen Hines wrote in his book about the Titanic:
"Here, then, is the unfolding drama of the Titanic as readers of 1912 experienced it, a commemoration of this great vessel one hundred years after her tragic loss."
('Titanic: One Newspaper, Seven Days, and the Truth That Shocked the World')
Now that the Titanic has been finished, are you interested in what happens the day afterwards? Belfast was wondering the same thing.
Come back tomorrow
for the next post in this series! I'll be interested in learning your thoughts along the way of this incredible journey.