Welcome to today's post in my series of Titanic posts! I thought now would be a good time to share about the Titanic's sister ships.
The
White Star Line
was a famous shipping company that had been constructing ships since 1870. They had been planning for 3 sister ships. These
Olympic-class vessels
would be near-identical to each other, and together they would rank as the largest ships in the world. They would each have 4 funnels, as a rare and signature feature. These ships would be used as an ocean service to-and-from England to New York.
Hundreds of men, several years, and millions of dollars
were used for these
dream ships
to be built.
White Star Line's sister ships:

R.M.S. Olympic

R.M.S. Titanic

H.M.H.S. Britannic
The
Olympic
set out in 1911 on her maiden voyage, and was the first of the 3 sister ships. She was declared the biggest ocean liner in the world, and of course, everyone was in awe of such a great vessel.
When the
Titanic
was finished in 1912, she became the "new" biggest ship, just slightly larger than her first sister. (However, after the Titanic sank, the Olympic was once again the largest.)
The
Britannic
was finished 2 years later in 1914, and was actually the biggest of all 3 sister ships, outweighing even the Titanic. Instead of being used to carry cargo and passengers, the Britannic was a hospital ship for World War I.
These 3 ships, although they were very similar, still weren't exactly identical. There were structural changes and modifications made to each of the 3 vessels. Below is a comparison chart of the White Star Line's
Olympic, Titanic, and Britannic
.
RMS Olympic

First Voyage:
June 14, 1911

Weight:
45,342 tons

Dimensions:
852.5 x 92.5 feet

Speed:
21-23 knots

Capacity:
2,435 maximum passengers
RMS Titanic

First Voyage:
April 10, 1912

Weight:
46,328 tons

Dimensions:
882 x 92 feet

Speed:
21-24 knots

Capacity:
3,547 maximum passengers
HMHS Britannic

First Voyage:
December 23, 1915

Weight:
48,158 tons

Dimensions:
852 x 94 feet

Speed:
21-23 knots

Capacity:
2,579 maximum passengers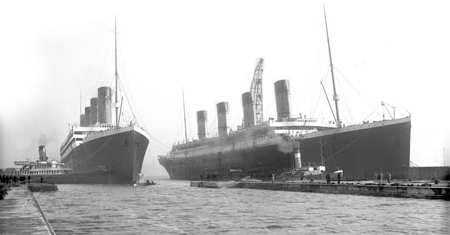 I thought it was a neat fact that during the Titanic's short lifespan, she was able to "meet" her sister ship, the Olympic. This photo shows them docked side-by-side in Belfast, on March 6th, 1912. The ships were nearly the same size, so the picture doesn't show an accurate angle of what they looked like in comparison. The Titanic never had a chance to meet her other sister ship, the Britannic, which wouldn't be built for a while longer. The only reason that the Titanic and Olympic were together here, is because the Titanic was still being built at that time, and the Olympic was in Belfast for repairs from a minor wreck.
Stay tuned for more details about the Titanic, coming tomorrow!