To continue on with the
first Titanic booklist
I posted a few days ago, here are a few more titles which I have immensely been enjoying...
Have you read any Titanic books this April?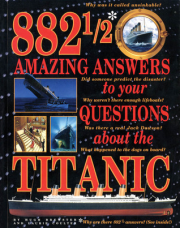 882 1/2 Amazing Answers to Your Questions About the Titanic
by
Hugh Brewster
.
Just like the title says, this book is filled with amazing answers about the Titanic! I've enjoyed reading several non-fiction books on the Titanic lately and found this simple, childlike book to be equally informational. Almost any question you have about the Titanic is answered in this book. Adults & kids alike will take pleasure in reading through all the Q&A... all 882 1/2 of them.
(Non-fiction)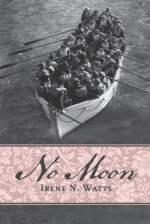 No Moon
by
Irene N. Watts
.
Louisa is a young London girl who acquires a job as a nursery maid for a rich family, the Miltons. Although its a dream, it comes with its hard challenges. The worst is that Lady Milton has requested Louisa to join the family on the Titanic's maiden voyage. But Louisa has a fear of water---after a fatal childhood experience. Other intrigue is stirred up as the story takes course, and soon you are entangled in a highly interesting plot. I found both the fictional & historical accounts quite enjoyable.
(Young Adult Fiction)
Sherlock Holmes and the Titanic Tragedy
by
William Seil
.
Holmes and Watson are sailing on the Titanic.... Do I really need to say anything else? When I happened across this book, which combined 2 of my favorite interests, I had to read it immediately! Overall, it was an interesting book, although parts of the storyline did seem a bit far-fetched. It didn't feel authentically like Holmes, but that is to be expected from another author. And as for some of the passengers aboard the ship, the feeling I got from Captain Smith and others like Lightoller were okay, but I don't think those men would have been how this story portrays them. Regardless, I still enjoyed the book!
(Fiction)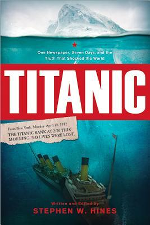 Titanic: One Newspaper, Seven Days, and the Truth That Shocked the World
by
Stephen Hines
.
I whole-heartedly recommend this one to historical Titanic buffs. It leads you through the prominent newspapers during the days following the Titanic's wreck. The headlines and stories varied from each other, contradicting each other when no truth was yet known. Stephen Hines has craftily pieced togher the running theme of the newspapers that week in April 1912. I especially enjoyed seeing what reporters in New York were saying in contrast with London. I learned so much in this book!
(Non-fiction)

P.S. I'm a part of the
Titanic 2012
reading challenge which I am joining in as a
First Class Passenger
! Anyone else who is reading some Titanic books may want to join in!!
~*~I'm also linking up to Book Review Wednesdays at Cym Lowell's blog!