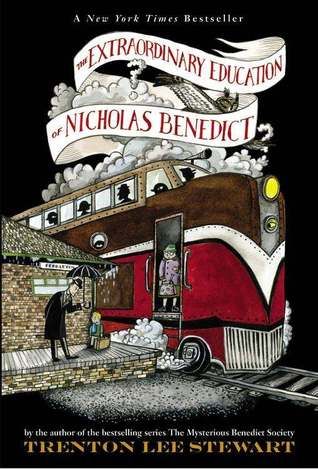 The Extraordinary Education of Nicholas Benedict
written by Trenton Lee Stewart
496 pages, children's fiction
published in 2012





"The Extraordinary Education of Nicholas Benedict" makes an excellent example of creativity and ingenuity in an author's writing style.
This book is actually the prequel to the "Mysterious Benedict Society" trilogy. You really must read the trilogy first, in order to catch all the little details hidden in the prequel. While we've so enjoyed the adventures and quests of Reynie, Kate, Sticky and Constance who form the Society --- and all of whom are very bright children that Mr. Benedict cultivates --- we finally get the chance to meet the boy himself, young Nicholas Benedict.
- - - - - - - - - - - - - - - - - -
"Shall I tell you what I'm thinking, Mrs. Ferrier?"
"Heavens no, Nicholas! That would take hours and we have only moments."
- - - - - - - - - - - - - - - - - -
With the prequel in hand, we can learn about Mr. Benedict's childhood --- about how he came to be the old man with narcolepsy, who uses a wheelchair, wears green plaid, and knows ever-so-many things. The entire back-story is finally revealed in a truly "extraordinary" way.
Young Nicholas is a nine-year-old boy with a mind that works overtime. Sometimes it's a great asset, and sometimes he finds himself in trouble because of it. He's always thinking, reading, and trying to figure out the next puzzle of life. Starting over at yet another orphanage is always hard, but that's exactly where he's going... Rothschild's End, the place where he will find friendship, enemies with the Spiders, and an unexpected treasure hunt. All great elements for a good story to be told.
- - - - - - - - - - - - - - - - - -
"He had plotted any number of different strategies (plotting strategies was the sort of thing Nicholas did when other children were playing jacks or Old Maid)..."
- - - - - - - - - - - - - - - - - -
I simple adore this book. It appealed to me on so many levels... the charm of a long-ago childhood, the love of libraries and books, the dreary orphanage holding so much potential within its walls, the wit found in tricky puzzles and clues, and the one boy who sees everything differently and can change it all. Complete with a few surprise twists now and then, to make sure you're awake.
By the time I arrived at the last chapter, I felt so sad that I would have to finish it and part company with the characters within its pages. It's a book to laugh and cry over. "The Extraordinary Education of Nicholas Benedict" is a book to cherish. This is the way an author writes a book that all ages can enjoy.
- - - - - - - - - - - - - - - - - -
My reviews of MBS titles:
• The Mysterious Benedict Society
• The Mysterious Benedict Society and the Perilous Journey
• The Mysterious Benedict Society and the Prisoner's Dilemma
• The Extraordinary Education of Nicholas Benedict
- - - - - - - - - - - - - - - - - -