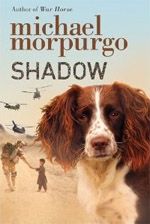 Shadow
written by Michael Morpurgo
288 pages, children's fiction
published in 2010





My Review...
"Shadow" is one of my favorite reads of the entire year!
A young Afghan boy tells the harrowing tale of his and his mother's escape from their war-torn home country. The Taliban are relentless in their attacks across Afghanistan, leaving many citizens fleeing to live in caves for shelter. Even there, they are not safe. The one and only bright light in Aman's life is a foreign dog that becomes attached to the boy, and he to it.
However, the entire book is not Aman's alone. The author deftly weaves 3 different characters' points-of-view together, so that the reader can take in the bigger picture. Matt, a British boy tells his own part of the story too, of his friendship with Aman in the schoolyard. Also, Matt's grandfather reveals his portion to the reader, giving you the full overview.
Aman, imprisoned in a detention center, along with his mother, desires to become free in England. But no one will listen to his story. Except for one person.
The reactions and emotions are what create this book. The poignancy and feeling the tale is suffused with will not soon be forgotten.
I don't think there is enough of this type of literature available for young readers. (Even though the book is written at a middle-grade reading level, adults will easily be drawn into the unique story).

See this review on
Goodreads
and
Amazon
.