"A child her wayward pencil drew
On margins of her book;
Garlands of flower, dancing elves,
Bud, butterfly, and brook,
Lessons undone, and plum forgot,
Seeking with hand and heart
The teacher whom she learned to love
Before she knew t'was Art."
- Louisa May Alcott


Dearest readers, I thank you for joining me for the
2015 Louisa May Alcott reading challenge
(Check out the details if you haven't yet!)
For today's post, I'm sharing about the L.M.A. books I'll be tackling this month for the challenge. I've decided upon 2 books -- one written by our beloved Miss Alcott, the second written as a fictionalized story about her family.
• Rose in Bloom (1876) •
written by Louisa May Alcott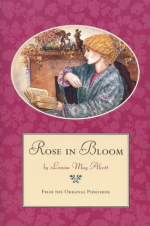 • Little Women Next Door (2000) •
written by Sheila Solomon Klass


Rose in Bloom
is the sequel to
Eight Cousins
,
which I adore so much
. I've been looking forward to this one for a long while now -- seeing as how it's been all of FIVE years since I read Eight Cousins.
Where has the time flown?
I chose the second book for my list,
Little Women Next Door
, because our challenge co-host
Susan Bailey
recommended it as a good one a while back. It's a fictional story told from the point of view of a young girl, neighbor to the Alcott family.
A QUICK NOTE
before closing... check back this Friday for a L.M. Alcott-themed GIVEAWAY that you won't want to miss! -- In fact, ALL Fridays in the month of June will have some exciting things going on (hint-hint!).
I'm thrilled to be reading these books this summer. And I can't wait to see which books you're going to read for the challenge as well!
So, my question to you, dear reader, is this...
What book(s) are you reading for the Louisa May Alcott challenge this June?


* Remember, it can be any book or story penned by the hand of Miss Alcott, or written about her.