Hello and welcome to
The Sound of Emeralds
birthday blog tour! I'm posting today about Rachelle Rea Cobb's third installment in the
Steadfast Love
series,
an inspirational historical romance set during the 16
th
century!
Rachelle is also the author of
The Sound of Diamonds
and
The Sound of Silver
, the first two books in the series. She has also written
Write Well
, a guide for writers! Last summer, she married a man with the same first name as the hero of the
Steadfast Love
series! I'm joining in this blog tour to tell you a little more about
Emeralds
and spread the news about the rocking giveaway Rachelle is hosting—make sure you enter using the Rafflecopter form to win signed copies of all three books!
What once was blazing hatred has turned to lasting love, but could the union of a wild heart with that of a lady ever result in more than heartache?

With the help of an old friend with uncertain loyalties, Dirk inches ever closer to clearing his name. Gwyneth throws her faith into good tidings and the promise of a future as a family. But an old evil comes to call, just as tragedy rips apart a fledgling truce. Enemies from the past and grief for the future threaten to tear asunder what God had brought together…

As the date of Dirk's trial approaches, his fate and his family hang in the balance. Will he be proven innocent of Gwyneth's parents' murders—or separated from her forever? How much pain does it take to erode a love steadfast?
Find
The Sound of Emeralds
on…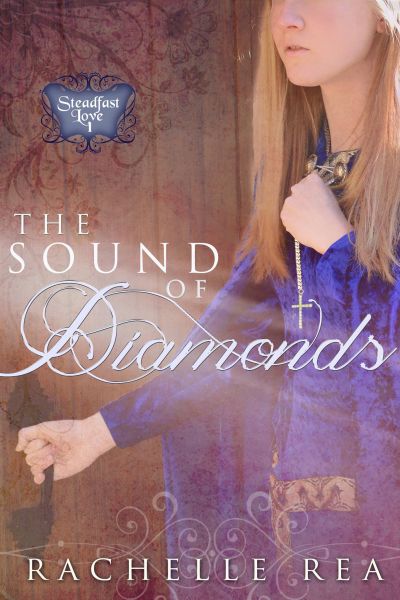 Her only chance of getting home is trusting the man she hates.

With the protestant Elizabeth on the throne of England and her family in shambles, Catholic maiden Gwyneth seeks refuge in the Low Countries of Holland, hoping to soothe her aching soul. But when the Iconoclastic Fury descends and bloodshed overtakes her haven, she has no choice but to trust the rogue who arrives, promising to see her safely home to her uncle's castle. She doesn't dare to trust him...and yet doesn't dare to refuse her one chance to preserve her own life and those of the nuns she rescues from the burning convent.

Dirk Godfrey is determined to restore his honor at whatever cost. Running from a tortured past, Dirk knows he has only one chance at redemption, and it lies with the lovely Gwyneth, who hates him for the crimes she thinks he committed. He must see her to safety, prove to the world that he is innocent, prove that her poor eyesight is not the only thing that has blinded her, but what is he to do when those goals clash?

The home Gwyneth knew is not what she once thought. When a dark secret and a twisted plot for power collide in a castle masquerading as a haven, the saint and the sinner must either dare to hold to hope...or be overcome.
Find
The Sound of Diamonds
on…
The stalwart saint and the redeemed rebel. One is fighting for faith, the other for honor...

After Dirk rescues Gwyneth from the Iconoclastic Fury, she discovers that faith is sometimes fragile—and hope is not as easy as it may seem. Gwyneth continues her quest to learn more about the love of God preached by Protestants she once distrusted.

Meanwhile, Dirk's quest is to prevent his sullied name from staining hers. Will his choice to protect her prove the undoing of her first faltering steps toward a Father God? Once separated, will Dirk and Gwyneth's searching hearts ever sing the same song?
Find
The Sound of Silver
on…
WANT TO WIN???
Enter using the Rafflecopter form below to signed copies of ALL THREE of Rachelle's novels
.
The whole series, signed!
International friends, this giveaway is open to continental U.S. addresses only (sorry!). But do still enter, because one international winner will also be chosen to receive all three e-books.
a Rafflecopter giveaway
ABOUT The Steadfast Love
SERIES
In 16th-century Europe, the Reformation rages between Protestants and Catholics. Gwyneth, half-Dutch, flees from England to Holland to escape the man who murdered her parents. When he follows her there and insists he came to rescue her, will she trust this man called Dirk? When tragedy strikes, will their steadfast love erode?
When and where did you first get the idea for the Steadfast Love Series?
A song I was listening to on the radio inspired the title of the first book. So I wrote Diamonds, but when I finished it, I realized to my great frustration that the characters weren't done with their story, even though I had been quite adamant that I would write a stand-alone novel. But the story wasn't finished, so I kept writing.
- - - - - -
I saw on your website that you also write reviews, articles and offer editing services. What's one of your favorite things beyond writing novels that you enjoy?
Editing is such fun! I daresay I enjoy editing a page full of my own (or others'!) words just as much as I enjoy splashing words onto a blank page. I recently released my first nonfiction book,
Write Well
, which is a short ebook designed as a guide writers!
Author Bio //
Times gone by snatch Rachelle Rea Cobb close, so she reads and writes about years long ago--her passions include the Reformation, Revolutions, and romance. Rachelle wrote the Steadfast Love series during college. Five months after she graduated, she signed a three-book deal with her dream publisher, WhiteFire. She's a homeschool grad, Oreo addict, and plots her novels while driving around her dream car, a pick-up truck. In June 2016, she married a man with the same name as her fictional hero, and they live happily ever after in Small Town, South. She is also the author of
Write Well
, a guide for writers, which released on March 4th!